Deerfield Beach Real Estate
Deerfield Beach Homes & Condos For Sale
Deerfield Beach is a beach city in Broward County which is located just south of the Palm Beach County Line. It is the northernmost city in Broward County and is adjacent to Boca Raton which is in Palm Beach County. The city was originally named after the many deer that used to roam the area. Deerfield Beach has a population of a little more than 75,000 people.  Deerfield is a very popular beach town for tourists and visitors from the neighboring towns of Boca Raton, Pompano Beach and Lighthouse Point.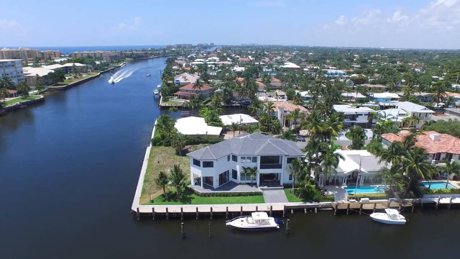 A VIEW OF THE INTRACOASTAL IN DEERFIELD BEACH
There are many waterfront homes and communities with waterfront homes and boat docks on canals. Deerfield Beach is a boaters dream and weekend boaters take their boats out and stop at the Intracoastal Front "Two Georges On The Cove". The area around "the cove" is a very desirable area - especially for boaters. Deerfield beach in general has many canals and waterfront properties with boat docks.
DEERFIELD BEACH AND THE PATH ALONG THE BEACH 
Deerfield Beach has some of the cleanest and most beautiful beaches in the U.S. Deerfield Beach won the "Blue Wave" beach award for its excellent beach conditions and water qualities and many visitors and tourists visit and stay at the Wyndham Or Embassy Suites Hotels right on the beach. All along the beach is a beautiful walkway lined with outdoor restaurants and a jogging and bicycle trail with beautiful views of the ocean. On weekends locals can be seen sitting on the beach to the left and right of the Deerfield Beach Pier. The Deerfield Beach Pier area was recently renovated and is a popular spot for local fisherman and tourists who visit and pay a small fee to walk along the pier. 
THE DEERFIELD BEACH INTERNATIONAL FISHING PIER
The area around the fishing pier just west is full of restaurants, bars and stores that cater to beach tourists and visitors. Even though Deerfield Beach has a population of over 75,000 people, a visit to Deerfield Beach and the pier is much more like visiting a small beach town than a bustling city. If you want good clean beaches with great facilities and restaurants close to the beach, then Deerfield Beach is a must visit spot.
Not all of Deerfield Beach is beachfront though. Once you go west from the beach there are many more affordable housing options including many 55+ condo and townhouse communities. Quiet Waters Park in West Deerfield Beach is a campground, fishing and skateboarding park popular with locals. Quiet Waters has a bike trail, bird watching and even a cable ski course which allows riders to water ski or ride a wakeboard around the lake being pulled by a cable. 
If you visit Florida you need to put Deerfield Beach on your places to visit. You might just take a stroll along the beautiful beach and decide to call Deerfield Beach home. You can search for your dream home below.
DEERFIELD BEACH WATERFRONT HOMES