Lighthouse Point Real Estate
Lighthouse Point Homes & Condos For Sale
Lighthouse Point is a charming small city in Broward County that is well known for boating and canal front and waterfront homes. The city was named after the Hillsboro Inlet Lighthouse which is located by Hillsboro Inlet in nearby Hillsboro Beach. The population of Lighthouse Point is only about 11,000 people.
A VIEW OF HILLSBORO INLET AND THE HILLSBORO INLET BRIDGE
Hillsboro Inlet is one of the busiest inlets in South Florida and many boaters choose to live in Lighthouse Point or dock their boats in Lighthouse Point in order to have quick and easy access to the ocean. Fishing in the Gulf Stream is just a few miles offshore and Hillsboro Inlet is packed with charter boats that take tourists and locals out for a day of deep sea fishing. 
Hillsboro Inlet is a popular place for boaters, paddle boarders and jet skiers.  On the weekends, the area around Hillsboro Inlet is packed with boaters relaxing, barbequing, swimming and snorkeling. 
THE LIGHTHOUSE AT HILLSBORO INLET
Lighthouse Point Marina has more than 100 boat slips and is a busy marina and a local family owned business for more than 40 years. Nearby Lighthouse Point Yacht and Racquet Club offers tennis, golfing and boating to residents and visitors.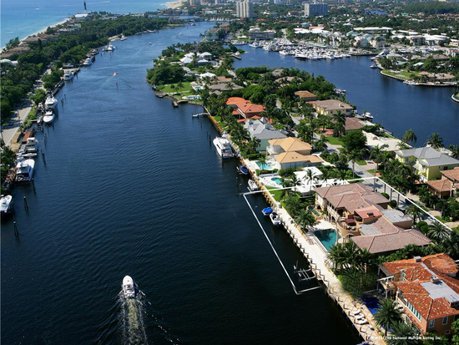 A VIEW OF THE INTRACOASTAL AND LIGHTHOUSE POINT MARINA & YACHT CLUB
Lighthouse Point is a boater's paradise with a small town feel. Lighthouse Point residents care about their community and everyone knows everyone in Lighthouse Point. Many locals enjoy living in homes or condos that are on the canal with a view of the water.   
LIGHTHOUSE POINT WATERFRONT HOMES
LIGHTHOUSE POINT WATERFRONT CONDOS