Delray Beach Real Estate
Delray Beach Homes & Condos For Sale
Delray Beach is a coastal city in Palm Beach County which is located on the Atlantic Ocean between Boca Raton and West Palm Beach. Delray Beach is affectionately known as the ""Village by the Sea" and has a population of a little over 65,000 people. But Delray still has a small beach town feel. 
Delray Beach is a world class destination with a very culturally diverse community that offers that small town feel but with world class restaurants, beaches, nightlife and hotels. Delray Beach is within a 30 minute drive of both Palm Beach and Fort Lauderdale Airport. The city of Delray Beach has won the All America City Award twice both in 1993 and then again in 2001.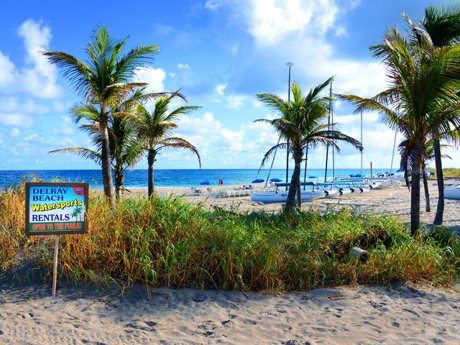 A VIEW OF THE HOBIE CATS AND THE BEACH ON DELRAY BEACH
In 2012, Delray Beach was named the "Most Fun Small Town" in the USA by the Travel Channel and USA Today. One look at Delray Beach and it's quaint Atlantic Ave will tell you why. Delray Beach which is often called "Delray" by the locals has it all. Beautiful beaches, fine art galleries, restaurants, bars, nightclubs and upscale stores line Atlantic Ave all the way from Swinton Ave in the west until the A1A Beach Road in the east. 
Atlantic Avenue, known as "The Ave" by locals is a popular spot for locals, visitors and tourists and is bustling with crowds on Thursday, Friday and Saturday nights.  Downtown Delray is known for its many festivals including the Delray Affair and Delray Beach Garlic Festival. 
Delray Beach is a mecca for artists. There are more than 20 art galleries in Downton Delray both on the Ave and also in the Pineapple Grove Arts District. In the Arts District you can visit "Artists Alley" and see artists working in their studios. Delray has many other festivals throughout the year including "Gallery Walks and "On the Ave" which are popular destination for local families and visitors.
DELRAY BEACH DOWNTOWN ON THE AVENUE
Delray Beach has transformed tremendously over the past 10 years. Much of this transformation can be attributed to the amazing growth of Atlantic Ave. Atlantic Ave is the envy of every city in South Florida as the city of Delray Beach has managed to attract and retain high end restaurants, stores, art galleries, bars and nightclubs. Atlantic Ave is now a must see destination and a frequent hotspot for entertainment, restaurants, bars and nightclubs for tourists and visitors.
DELRAY BEACH VIEW OF THE INTRACOASTAL FROM DECK 84
Come visit Delray Beach. And see why everyone thinks Delray is one of the nicest small beach towns in the U.S. Make sure you visit "Deck 84" (see picture above) for a Sunday brunch and views of the intracoastal and boaters docking and dining. Make sure you leave some time for a nice stroll on Atlantic Ave and pop in to Kilwin's Chocolates on Atlantic for some old fashioned ice cream, fudge, and specialty sweets. 
You can search for your perfect home or condo in Delray Beach below. 
DELRAY BEACH WATERFRONT CONDOS